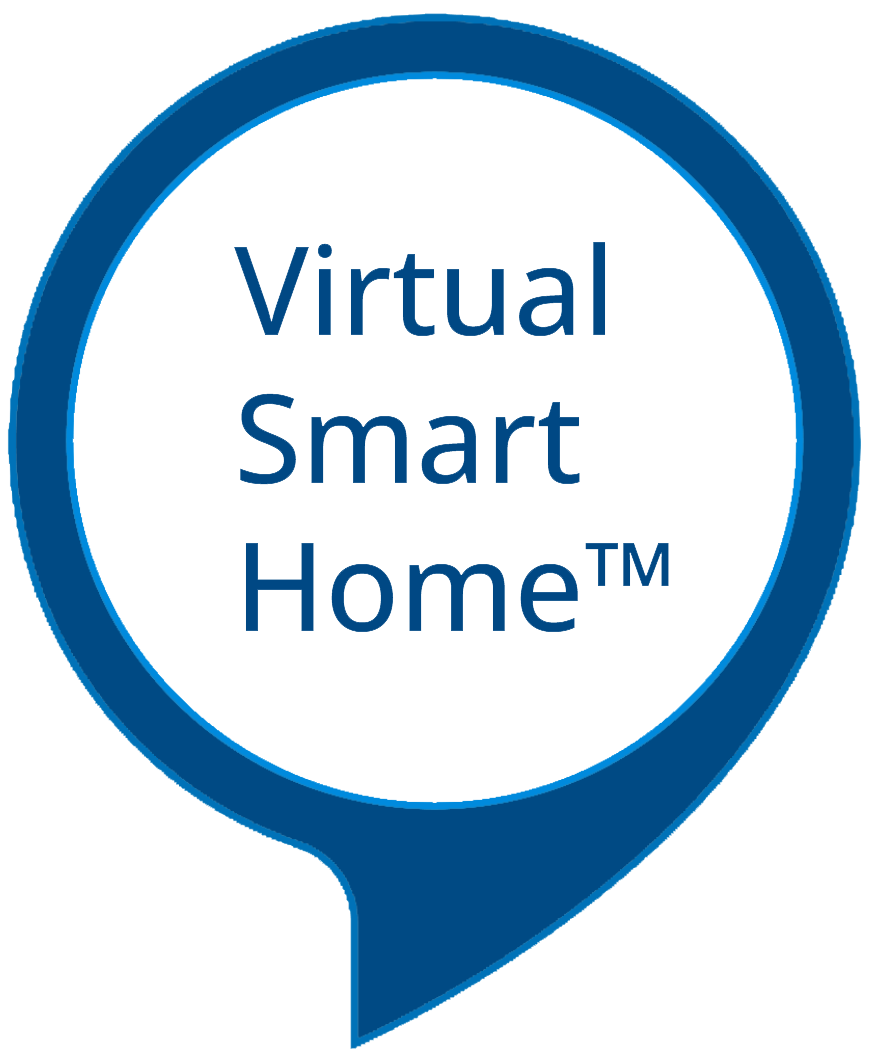 Terms of Use
Please read these Terms of Use ("Terms", "Terms of Service", "Terms and Conditions") carefully before using the software and services (the "Service") provided and operated by Virtual Smart Home™ ("us", "we" or "our"). The Service includes among others Virtual Smart Home™'s website, software-as-a-service ("SaaS") offerings, backend services provided by Virtual Smart Home™ and used by users for configuring and customising their software and services, and Virtual Smart Home™'s software products such as apps and Alexa skills that can be installed, activated and configured by users.
Your access to, and use of, the Service is conditioned upon your acceptance of and compliance with these Terms. These Terms apply to all visitors, customers, users and others who wish to access or use the Service. By accessing or using the Service you agree to be bound by these Terms. If you disagree with any part of the Terms then you do not have permission to access the Service.
Access to, and Use of, the Service
Rights to Use
You agree to use the Service in accordance with the usage levels by which we measure, price and offer our Service as posted on our website or in the Service Descriptions ("Use Levels"). The Service Descriptions are incorporated into these Terms. You understand that your personal data may be processed in connection with your use of our Service, software, and website. You may use our Service only as permitted in these Terms, and you consent to our Privacy Policy, which is incorporated by reference.
We grant you a personal, non-transferable, non-exclusive, revocable, limited license to use and access the Service solely as permitted by these Terms. We reserve all rights not expressly granted to you by these Terms. The Service is offered "as is". Technical support for the Service is on a "best effort" basis without any guaranteed performance indicators such as response time or mean time to restore.
Except as permitted through the Service Descriptions or as otherwise permitted by us in writing, your license does not include the right to (i) license, sell, transfer, assign, distribute, host, or otherwise commercially exploit the Service or Content; (ii) modify, prepare derivative works of, disassemble, decompile, or reverse engineer any part of the Service or Content; or (iii) access the Service or Content in order to build a similar or competitive website, product, software or service.
Limitations on Use
By using our Services, you agree not to (i) modify, prepare derivative works of, or reverse engineer, our Service; (ii) knowingly or negligently use our Service in a way that abuses or disrupts our networks, Accounts, or the Service; (iii) transmit through the Service any harassing, indecent, obscene, fraudulent, or unlawful material; (iv) market, or resell the Service to any third party; (v) use the Service in violation of applicable laws, or regulations; (vi) use the Service to send unauthorised advertising, or spam; (vii) harvest, collect, or gather user data without their consent; or (viii) transmit through the Service any material that may infringe the intellectual property, privacy, or other rights of third parties.
Changes to the Service
We reserve the right to enhance, upgrade, improve, or modify features of our Service as we deem appropriate and in our discretion. We may offer additional functionality to our Service or premium feature improvements for an additional cost. We reserve the right to suspend or discontinue the Service (in whole or in part) at any time, with or without notice to you.
Any future release, update, or other addition to functionality of the Service will be subject to these Terms, which may be updated from time to time. You agree that we will not be liable to you or to any third party for any modification, suspension, or discontinuation of the Service or any part thereof.
Your Account and Communication with You
Account
When you create a user account ("Account", "Profile", "User Profile") with us, you guarantee that you are above the age of 18, and that the information you provide us is accurate, complete and current at all times. Inaccurate, incomplete or obsolete information may result in the immediate termination of your account on the Service.
You are responsible for maintaining the confidentiality of your Account and password, including, but not limited to, the restriction of access to your computer and/or Account. You agree to accept responsibility for any and all activities or actions that occur under your Account and/or password, whether your password is with our Service or a third-party service, particularly with Amazon ("Login with Amazon"). You must notify us immediately upon becoming aware of any breach of security or unauthorized use of your Account.
You may not use the name or an Account of another person or entity other than you, without appropriate authorisation. You may not use names or Accounts that are offensive, vulgar or obscene.
You may not license, sell or transfer your Account without our prior written approval.
Termination of Your Account
If you wish to terminate your account, you may simply discontinue using the Service. If you wish to have your account and data deleted, follow the process laid out in the Privacy Policy.
We may terminate or suspend your Account and block access to the Service immediately, without prior notice or liability, in our sole discretion, for any reason whatsoever and without limitation, including, but not limited to, a breach of the Terms. Explicit causes for such termination include: (a) violations of the Terms or any other policies or guidelines that are referenced herein and/or posted on the Service; (b) a request by you to cancel or terminate your Account; (c) a request and/or order from law enforcement, a judicial body, or other government agency; (d) where provision of the Service to you is or may become unlawful; (e) unexpected technical or security issues or problems; (f) your participation in fraudulent or illegal activities; or (g) failure to pay any fees owed by you in relation to the Service.
Any such termination or suspension shall be made by Virtual Smart Home™ in its sole discretion and Virtual Smart Home™ will not be responsible to you or any third party for any damages that may result or arise out of such termination or suspension of your Account and/or access to the Service.
All provisions of the Terms which by their nature should survive termination shall survive termination, including, without limitation, ownership provisions, warranty disclaimers, indemnity and limitations of liability.
Communication with You
By creating an Account on our service, you agree to receive information on the software and services you use, updates and changes to these software and service as well as information deemed relevant for you including information on newly offered software and services.
Any ideas, suggestions, and feedback about Virtual Smart Home™ and our Service that you provide to us are entirely voluntary, and you agree that Virtual Smart Home™ may use such ideas, suggestions, and feedback without compensation or obligation to you.
Details on our communication with you are elaborated in the Privacy Policy.
Your Content
The Service may contain data, information, text, links, graphics, photos, videos, or other materials ("Content"), including Content created with, or submitted to, the Service by you or through your Account ("Your Content"). We take no responsibility for, and we do not expressly or implicitly endorse, any of Your Content.
By submitting Your Content to the Service, you represent and warrant that you have all rights, power, and authority necessary to grant the rights to Your Content contained within these Terms. Because you alone are responsible for Your Content, you may expose yourself to liability if you post or share Content without all necessary rights.
You retain any ownership rights you have in Your Content, but you grant Virtual Smart Home™ the following license to use that Content. When Your Content is created with, or submitted to, the Service, you grant us a worldwide, royalty-free, perpetual, irrevocable, non-exclusive, transferable, and sublicensable license to use, copy, modify, adapt, prepare derivative works from, distribute, perform, and display Your Content and any name, username, voice, or likeness provided in connection with Your Content in all media formats and channels now known or later developed. This license includes the right for us to make Your Content available for data processing, syndication, broadcast, distribution, or publication by other companies, organisations, or individuals who partner with Virtual Smart Home™. You also agree that we may remove metadata associated with Your Content, and you irrevocably waive any claims and assertions of moral rights or attribution with respect to Your Content.
We have no obligation to screen, edit, or monitor Your Content. However, we may, in our sole discretion, delete or remove Your Content at any time and for any reason, including for a violation of these Terms, a violation of our Privacy Policy, or if you otherwise create liability for us.
Content found on or through this Service are the property of Virtual Smart Home™ or used with permission. You may not distribute, modify, transmit, reuse, download, repost, copy, or use said Content, whether in whole or in part, for commercial purposes or for personal gain, without written permission from us.
Payment
Fees and Payment
You agree to pay all applicable, undisputed fees for the Service as laid out in the Service Descriptions on the terms set forth on the invoice. Except as set forth in the Service Descriptions, any and all payments you make to us for access to the Service are final and non-refundable. You are responsible for all fees and charges imposed by your equipment, data and communication providers related to your access and use of the Service.
You are responsible for providing accurate and current billing, contact and payment information to us or any reseller. You agree that we may take steps to verify whether your payment method is valid, charge your payment card or bill you for all amounts due for your use of the Service, and automatically update your payment card information using software designed to do so in the event your payment card on file is no longer valid. You agree that your credit card information, any other payment information provided by your and related personal data may be provided to third parties for payment processing and fraud prevention purposes.
We may suspend or terminate the Service if at any time we determine that your payment information is inaccurate or not current, and you are responsible for fees and overdraft charges that we may incur when we charge your card for payment. We will not agree to submit invoices via any customer procure-to-pay online portal or Electronic Data Interchange (EDI) portals. We reserve the right to update the price for Service. Price changes will be effective as of your next billing cycle. We will notify you of any price changes by publishing on our website, emailing, quoting or invoicing you.
Promotions and Discounts
Sales, promotions and other special discounted pricing offers are temporary and, upon the renewal of your subscription, any such discounted pricing offers may expire. We reserve the right to discontinue or modify any coupons, credits, sales and special promotional offers in our sole discretion.
Disputes and Delinquent Accounts
You must notify us of any fee dispute within 15 days of the invoice date, and once resolved, you agree to pay those fees within 15 days. We may, on notice to you, suspend or terminate your Service if you do not pay undisputed fees, and you agree to reimburse us for all reasonable costs and expenses incurred in collecting delinquent amounts.
Taxes and Fees
You are responsible for all applicable sales, services, value-added, goods and services, withholding, tariffs or any other similar fees as may be applicable in the location in which the Service is being provided and similar taxes or fees (collectively, "Taxes and Fees") imposed by any government entity or collecting agency based on the Service, except those Taxes and Fees based on our net income, or Taxes and Fees for which you have provided an exemption certificate.
If you do not satisfy your Tax and Fees obligations, you agree that you will be required to reimburse us for any Taxes and Fees paid on your behalf, and we may take steps to collect Taxes and Fees we have paid on your behalf. In all cases, you will pay the amounts due under these Terms to us in full without any right of set-off or deduction.
Warranties
The Service is provided "as is" and on an "as available", "best effort" basis. The Service is provided without warranties of any kind, whether express or implied, including, but not limited to, implied warranties of merchantability, fitness for a particular purpose, non-infringement or course of performance.
We do not represent or warrant that (i) the use of our services will be timely, uninterrupted, free of errors, or operate in combination with any specific hardware, software, system or data; (ii) our Service will meet your requirements; or (iii) all errors or defects will be corrected.
Use of the Service is at your sole risk. Our entire liability and your exclusive remedy under this warranty will be, at our sole option and subject to applicable law, to provide conforming services, or to terminate the non-conforming services or the applicable order, and provide a pro-rated refund of any prepaid fees from the date you notify us of the non-conformance through the end of the remaining term.
To the extent permitted by applicable law, we disclaim all other warranties and conditions, whether express, implied, statutory or otherwise, including any express or implied warranties of merchantability, satisfactory quality, title, fitness for a particular purpose and non-infringement.
Some jurisdictions do not allow the exclusion of certain warranties and conditions, therefore some of the above exclusions may not apply to customers located in those jurisdictions.
Indemnification
You will indemnify, hold harmless and defend Virtual Smart Home™, its licensee and licensors, and their employees, officers and directors, contractors and agents against any third-party claim resulting from a breach of (i) Limitations on Use; (ii) Your Account and Communication with You; or (iii) Your Content, or alleging that any of your Content infringes upon any patent or copyright, or violates a trade secret of any party, and you agree to pay reasonable attorney's fees, court costs, damages finally awarded, or reasonable settlement costs with respect to any such claim.
We will promptly notify you of any claim and cooperate with you in defending the claim. You will reimburse us for reasonable expenses incurred in providing any cooperation or assistance. You will have full control and authority over the defense and settlement of any claim, except that (i) any settlement requiring us to admit liability requires prior written consent, not to be unreasonably withheld or delayed; and (ii) we may join in the defense with our own counsel at our own expense.
Limitation on Liability
In no event shall Virtual Smart Home™, nor its employees, officers and directors, contractors and agents, partners, suppliers or affiliates, be liable for any indirect, incidental, special, consequential or punitive damages, including without limitation, loss of profits, data, use, goodwill, or other intangible losses, resulting from (i) your access to or use of or inability to access or use the Service; (ii) any conduct or content of any third party on the Service; (iii) any content obtained from the Service; and (iv) unauthorised access, use or alteration of your transmissions or content, whether based on warranty, contract, tort (including negligence) or any other legal theory, whether or not we have been informed of the possibility of such damage, and even if a remedy set forth herein is found to have failed of its essential purpose.
Limitation on Indirect Liability
Neither party will be liable to the other party or to any other person for any indirect, special, consequential or incidental loss, exemplary or other such damages, including, without limitation, damages arising out of or relating to: (i) loss of data; (ii) loss of income; (iii) loss of opportunity; (iv) lost profits; or (v) costs of recovery, however caused and based on any theory of liability, including, but not limited to, breach of contract, tort (including negligence), or violation of statute, whether or not such party has been advised of the possibility of such damages. some jurisdictions do not allow limitation or exclusion of liability for incidental or consequential damages, so some of the above limitations may not apply.
To the extent permitted by applicable law, the total cumulative liability of either party and their respective licensors and suppliers arising out of this agreement is limited to the sum of the amounts paid for the applicable Service during the 12 months immediately preceding the incident giving rise to the liability. The foregoing does not limit your obligations to pay any undisputed fees and other amounts due under any order.
Governing Law and Compliance with Laws
Governing Law
These Terms of Use are governed by the laws of Austria, and all parties submit to the non-exclusive jurisdiction of the courts of this country.
Our failure to enforce any right or provision of these Terms will not be considered a waiver of those rights.
If any provision of these Terms is held to be invalid or unenforceable by a court, the remaining provisions of these Terms will remain in effect.
These Terms complmenet the Privacy Policy and the Service Descriptions and constitute the agreement between us regarding our Service, and supersede and replace any prior agreements we might have had between us regarding the Service.
Compliance with Laws
In connection with the performance, access and use of the Service under the Terms, each party agrees to comply with all applicable laws, rules and regulations including, but not limited to export, privacy, and data protection laws and regulations. If necessary and in accordance with applicable law, we will cooperate with local, state, federal and international government authorities with respect to the Service. Notwithstanding any other provision in these Terms, we may immediately terminate the Agreement for noncompliance with applicable laws.
Intellectual Property
You acknowledge that we or our licensors retain all proprietary rights, title and interest in the Service, our name, logo or other marks (together, "Virtual Smart Home™'s Marks"), and any related intellectual property rights, including, without limitation, all modifications, enhancements, derivative works, and upgrades thereto. You agree that you will not use or register any trademark, service mark, business name, domain name or social media account name or handle which incorporates in whole or in part Virtual Smart Home™'s Marks or is similar to any of these.
Changes to these Terms
We reserve the right, in our sole discretion, to modify or replace these Terms at any time. If a revision is material we will provide at least 30 days notice prior to any new terms taking effect. What constitutes a material change will be determined in our sole discretion.
By continuing to access or use our Service after any revisions become effective, you agree to be bound by the revised Terms. If you do not agree to the revised Terms, you are no longer authorised to use the Service.
Questions, Comments and Contact
If you have any questions about these Terms, comments or would like to discuss these Terms with us, please contact us.
This version of the terms of use was published on 12 July 2020.